Commodity
Metallurgical Coal
Location
British Columbia, Canada
Operator
Allegiance Coal Ltd.
Royalty Details
Terms: Altius holds 1.5% to 3% price-based sliding scale Gross Sales Royalty on the Telkwa/Tenas Project area. In addition to the royalty, there are substantial milestone-based equity/cash payments to be received.
Asset Highlights
Altius effectively sold the Telkwa project in 2015 to a private Australian group who then went public via Allegiance Coal (ASX:AHQ) in 2017. Since then Allegiance has completed a number of technical and financial studies including a Definitive Feasibility Study in the first quarter of 2019 which highlighted robust project economics - DFS 2019.
Overview
The Telkwa metallurgical coal project (Project) is located on the western side of British Columbia easily accessible to the international Port of Prince Rupert, which is a relatively short shipping distance to the Asian steel mills.
Allegiance is currently advancing the project and recently completed a DFS in 2019 of which the highlights are tabled below. Allegiance also attracted Itochu of Japan as a strategic partner in 2018 to assist in project development and financing of the project to production. The Project is now at the permitting stage.
Further details regarding Allegiance and the Telkwa project can be found here.


Types of Coal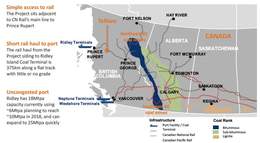 Telkwa Project Location